Tag: Pumpkin
by Martin Family Food Admin on Nov.11, 2011, under Cookies, Desserts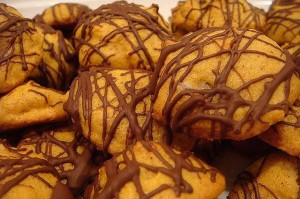 Ingredients
1 cup (2 sticks) unsalted butter, softened
1 cup white sugar
1 cup light brown sugar
2 large eggs
1 teaspoon vanilla extract
1 cup canned pumpkin puree
3 cups all-purpose flour
2 teaspoons baking soda
1/2 teaspoon salt
1 teaspoon ground cinnamon
1/2 teaspoon ground ginger
1/4 teaspoon ground nutmeg
1/4 teaspoon ground cloves
2 cups (12-ounce bag) milk chocolate chips, not semisweet
Nonstick cooking spray or parchment paper
Directions
Heat the oven to 350 degrees F. Spray cookie sheets with nonstick spray or line them with parchment paper.
Using a mixer, beat the butter until smooth. Beat in the white and brown sugars, a little at a time, until the mixture is light and fluffy. Beat in the eggs 1 at a time, then mix in the vanilla and pumpkin puree. In a large bowl, whisk together the flour, baking soda, salt, cinnamon, ginger, nutmeg, and cloves. Slowly beat the flour mixture into the batter in thirds. Stir in the chips. Scoop the cookie dough by heaping tablespoons onto the prepared cookie sheets and bake for 15 to 20 minutes, or until the cookies are browned around the edges. Remove the cookie sheets from the oven and let them rest for 2 minutes. Take the cookies off with a spatula and cool them on wire racks.
Leave a Comment
:Fall, Pumpkin
more...
by Martin Family Food Admin on Oct.05, 2011, under Brownies, Cheesecake, Desserts
Ingredients:
Brownie Batter:
3/4 cup (1 1/2 sticks) butter, melted
1 cup sugar
1 tbs vanilla
2 eggs
1/2 cup all purpose flour
1/2 cup unsweetened cocoa powder
1/4 teas salt
1/2 teas cinnamon
Cheesecake Batter:
6 oz cream cheese, softened
1 egg
1/3 cup sugar
2 tbs flour
1/2 cup pumpkin puree
1/4 teas vanilla
1/2 teas cinnamon
1/4 teas each ground ginger and ground cloves
Preparation:
Preheat oven to 350F. Grease an 8×8? or an 11×7? baking pan.
For the Brownies: Beat together melted butter, sugar, and vanilla, then beat in eggs one at a time. Combine dry ingredients in small bowl, and then gradually stir into butter mixture by hand.
For the Cheesecake: In another bowl, beat cream cheese and sugar until smooth. Beat in remainder of ingredients until smooth.
Spread about 2/3 of chocolate batter into prepared pan. Spread the pumpkin batter over top, distributing evenly. Drop the remaining brownie batter over cheesecake batter. To make the swirls, run a butter knife back and forth through the pan.
Bake for 35-40 minutes, or until a toothpick inserted in the center comes out clean and the center doesn't jiggle when you nudge the pan. Cool completely and chill before cutting and serving.
Leave a Comment
:Fall, Pumpkin
more...