Pies
by Martin Family Food Admin on Oct.27, 2015, under Desserts, Pies
WHY THIS RECIPE WORKS:
For a pie with a balance of chocolate filling, crisp meringue, and fluffy whipped cream, we needed to boost the chocolate flavor. By making a cooked custard, we were able to load nearly a pound of chocolate into the filling, and using part milk and part bittersweet chocolate lent depth and complexity. True meringue takes time, and we found that 2½ hours in the oven was necessary for the lightest, crispest crust. To prevent the crust from sticking to the pan, we rely on a double dose of cornstarch—in the egg whites and as a coating for the pie plate. To finish, we go with lightly sweetened whipped cream and a sprinkling of cocoa powder.
SERVES 8 TO 10
Serve the assembled pie within 3 hours of chilling.
INGREDIENTS
FILLING

9 ounces milk chocolate, chopped fine
5 ounces bittersweet chocolate, chopped fine
3 large large egg yolks
1 1/2 tablespoon granulated sugar
1/2 teaspoon salt
1/2 cup half-and-half
1 1/4 cups heavy cream, chilled

MERINGUE CRUST

1 tablespoon cornstarch, plus extra for pie plate
1/2 cup (3 1/2 ounces) granulated sugar
3 large egg whites
Pinch cream of tartar
1/2 teaspoon vanilla extract

TOPPING

1 1/3 cups heavy cream, chilled
2 tablespoons confectioners' sugar
Unsweetened cocoa powder
INSTRUCTIONS
1. FOR THE FILLING: Microwave milk chocolate and bittersweet chocolate in large bowl at 50 percent power, stirring occasionally, until melted, 2 to 4 minutes. Whisk egg yolks, sugar, and salt together in medium bowl until combined, about 1 minute. Bring half-and-half to simmer in small saucepan over medium heat. Whisking constantly, slowly add hot half-and-half to egg yolk mixture in 2 additions until incorporated. Return half-and-half mixture to now-empty saucepan and cook over low heat, whisking constantly, until thickened slightly, 30 seconds to 1 minute. Stir half-and-half mixture into melted chocolate until combined. Let cool slightly, about 8 minutes.

2. Using stand mixer fitted with whisk, whip cream on medium-low speed until foamy, about 1 minute. Increase speed to high and whip until soft peaks form, 1 to 3 minutes. Gently whisk one-third of whipped cream into cooled chocolate mixture. Fold in remaining whipped cream until no white streaks remain. Cover and refrigerate for at least 3 hours, or until ready to assemble pie. (Filling can be made up to 24 hours in advance.)

3. FOR THE MERINGUE CRUST: Adjust oven rack to lower-middle position and heat oven to 275 degrees. Grease 9-inch pie plate and dust well with extra cornstarch, using pastry brush to distribute evenly. Combine sugar and 1 tablespoon cornstarch in bowl. Using stand mixer fitted with whisk, whip egg whites and cream of tartar on medium-low speed until foamy, about 1 minute. Increase speed to medium-high and whip whites to soft, billowy mounds, 1 to 3 minutes. Gradually add sugar mixture and whip until glossy, stiff peaks form, 3 to 5 minutes. Add vanilla to meringue and whip until incorporated.

4. Spread meringue into prepared pie plate, following contours of plate to cover bottom, sides, and edges. Bake for 1½ hours. Rotate pie plate, reduce oven temperature to 200 degrees, and bake until completely dried out, about 1 hour longer. (Shell will rise above rim of pie plate; some cracking is OK.) Let cool completely, about 30 minutes.

5. FOR THE TOPPING: Spoon cooled chocolate filling into cavity of pie shell, distributing evenly. Using stand mixer fitted with whisk, whip cream and sugar on medium-low speed until foamy, about 1 minute. Increase speed to high and whip until stiff peaks form, 1 to 3 minutes. Spread whipped cream evenly over chocolate. Refrigerate until filling is set, about 1 hour. Dust with cocoa. Slice with sharp knife and serve.
DON'T MAKE THIS MISTAKE: BUSTED CRUST
The egg white crust is part of what distinguishes angel pie. To avoid a sticky, broken meringue shell, add cornstarch to the whites, and grease the pie plate and dust it with more cornstarch. Also, this uses the ideal baking time and temperatures to ensure that the interior and exterior of the meringue cooked properly.
Comments Off

on Chocolate Angel Pie
:Chocolate, Dessert, Pie
more...
by Martin Family Food Admin on Nov.08, 2011, under Desserts, Pies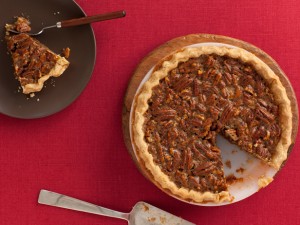 Ingredients
Dough:
1 1/4 cups all-purpose flour
2 teaspoons sugar
1/8 teaspoon salt
1/2 cup cold butter (1 stick), diced
1 large egg, lightly beaten
Flour, for rolling the dough
Filling:
5 tablespoons unsalted butter
1 cup packed light brown sugar
3/4 cup light corn syrup
1/2 teaspoon fine salt
2 cups chopped toasted pecans
1 to 2 tablespoons bourbon
2 teaspoons pure vanilla extract
3 eggs, lightly beaten
Directions
Make the dough by hand: In a medium bowl, whisk together the flour, sugar, and salt. Using your fingers, work the butter into the dry ingredients until it resembles yellow cornmeal mixed with bean-sized bits of butter. (If the flour/butter mixture gets warm, refrigerate it for 10 minutes before proceeding.) Add the egg and stir the dough together with a fork or by hand in the bowl. If the dough is dry, sprinkle up to a tablespoon more of cold water over the mixture.
Alternatively, make the dough in a food processor. With the machine fitted with the metal blade, pulse the flour, sugar, and salt until combined. Add the butter and pulse until it resembles yellow cornmeal mixed with bean-sized bits of butter, about 10 times. Add the egg and pulse 1 to 2 times; don't let the dough form into a ball in the machine. (If the dough is very dry add up to a tablespoon more of cold water.) Remove the bowl from the machine, remove the blade, and bring the dough together by hand.
Form the dough into a disk, wrap with plastic wrap, and refrigerate until thoroughly chilled, at least 1 hour.
On a lightly floured surface, roll the dough with a rolling pin into a 12-inch circle about 1/8-inch thick. Transfer the dough to a 9-inch pie pan and trim the edges, leaving about an extra inch hanging over the edge. Tuck the overhanging dough underneath itself to form a thick edge that is even with the rim. Flute the edge as desired. Freeze the pie shell for 30 minutes.
Set separate racks in the center and lower third of oven and preheat to 400 degrees F. Put a piece of parchment paper or foil over the pie shell and fill with dried beans or pie weights. Bake on a baking sheet on the center rack until the dough is set, about 20 minutes. Remove from the oven and lift sides of the parchment paper to remove the beans. Continue baking until the pie shell is lightly golden brown, about 10 more minutes. Reduce the oven temperature to 350 degrees F.
While the crust is baking make the filling: In medium saucepan, combine the butter, brown sugar, corn syrup, and salt. Bring to a boil over medium heat, and stirring constantly, continue to boil for 1 minute. Remove from the heat and stir in the nuts, bourbon, and the vanilla. Set the mixture aside to cool slightly, about 5 minutes. (If the crust has cooled, return it to the oven for 5 minutes to warm through.) Whisk the beaten eggs into the filling until smooth. Put the pie shell on a sheet pan and pour the filling into the hot crust.
Bake on the lower oven rack until the edges are set but the center is still slightly loose, about 40 to 45 minutes. (If the edges get very dark, cover them with aluminum foil half way during baking.) Cool on a rack. Serve slightly warm or room temperature.
Leave a Comment
more...