Archive for May, 2014
by Martin Family Food Admin on May.07, 2014, under Salad Dressing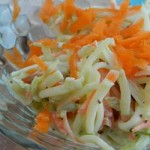 1 tablespoon and 1-1/2 teaspoons white sugar (1 TBS Stevia suffices as replacement)
1 tablespoon cider vinegar
4 oz Homemade Olive Oil Mayonnaise
1/4 teaspoon prepared yellow mustard
1/4 teaspoon celery seed
1/4 teaspoon salt, or to taste
Whisk sugar with cider vinegar in a large bowl until sugar has dissolved. Mix in mayonnaise, yellow mustard, celery seed, and salt until thoroughly combined.
Comments Off

on 5-Star Cole Slaw Dressing Recipe
:
Cole Slaw Dressing
more...
by Martin Family Food Admin on May.07, 2014, under Condiment, Sauces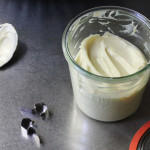 Ingredients
1 egg yolk
1 tablespoon freshly squeezed lemon juice
1 tablespoon water
1 teaspoon Dijon mustard
1 cup olive oil (not extra virgin)
Kosher salt, to taste
Instructions
Place egg yolk, lemon juice, water and mustard in a narrow, tall container. I used a Weck jar. Pour over olive oil, then let the contents settle for a moment.
Using an immersion blender, process until the mayo starts to form. Once you start seeing mayo, gently move the blender up and down. Continue until all oil is emulsified. The texture will be thick.
Season to taste with kosher salt and store in the refrigerator for up to several weeks.
Comments Off

on Homemade Olive Oil Mayonnaise
:Condiments, Sauces
more...