Chili
by Martin Family Food Admin on Jun.30, 2018, under Chili, Entrees, Pasta, Type II Friendly, Vegan, Vegetables, Vegetarian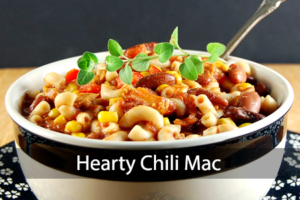 8 ounces dry macaroni noodles
1 onion, chopped
3 garlic cloves, minced
1 small red or green bell pepper, seeded and diced
1 8-ounce package vegetarian ground beef substitute, or 4 vegetarian burgers, thawed (if necessary) and chopped
1 28-ounce can crushed tomatoes
1 15-ounce can kidney beans, undrained
1 15-ounce can corn, undrained
2 tablespoons chili powder
1 teaspoon ground cumin
Cook macaroni according to package directions. Drain, rinse, and set aside.
In a large pot add onion. Cook until onion is soft, about 5 minutes.
Add bell pepper, garlic and vegetarian ground beef substitute or chopped vegetarian burgers. Mix in tomatoes, beans and their liquid, corn and its liquid, chili powder, and cumin. Cover and simmer over medium heat, stirring occasionally, for 20 minutes.
Add cooked pasta and check seasonings. Add more chili powder if a spicier dish is desired.
Comments Off

on Hearty Chili Mac
more...
by Martin Family Food Admin on Jan.16, 2015, under Chili, Entrees, Soup, Wheat Belly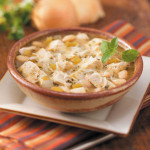 Ingredients
1 pound boneless skinless chicken breasts, chopped
1 medium onion, chopped
1 tablespoon olive oil
2 garlic cloves, minced
2 cans (14 ounces each) chicken broth
1 can (4 ounces) chopped green chilies
2 teaspoons ground cumin
2 teaspoons dried oregano
1-1/2 teaspoons cayenne pepper
3 cans (14-1/2 ounces each) great northern beans, drained, divided
1 cup (4 ounces) shredded Monterey Jack cheese
Chopped jalapeno pepper, optional
Directions
In a Dutch oven over medium heat, cook chicken and onion in oil until lightly browned. Add garlic; cook 1 minute longer. Stir in the broth, chilies, cumin, oregano and cayenne; bring to a boil.
Reduce heat to low. With a potato masher, mash one can of beans until smooth. Add to saucepan. Add remaining beans to saucepan. Simmer for 20-30 minutes or until chicken is no longer pink and onion is tender.
Top each serving with cheese and jalapeno pepper if desired.
Comments Off

on White Chicken Chili
:Chili, Entree, Soup, Wheat Belly
more...