Archive for April, 2012
by Martin Family Food Admin on Apr.24, 2012, under Cheesecake, Desserts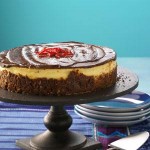 Prep: 40 min. Bake: 1 hour + chilling
Yield: 16 Servings
Ingredients
1-3/4 cups crushed gingersnap cookies (about 35 cookies)
1/4 cup finely chopped walnuts
1 tablespoon sugar
1/2 teaspoon ground cinnamon
6 tablespoons butter, melted
FILLING:
3 packages (8 ounces each) cream cheese, softened
1 cup plus 2 tablespoons sugar
1/4 cup 2% milk
2 tablespoons all-purpose flour
1 teaspoon vanilla extract
3 eggs, lightly beaten
1 can (13.4 ounces) dulce de leche
1 cup (6 ounces) semisweet chocolate chips
1-1/2 teaspoons chili powder
Directions
Place a greased 9-in. springform pan on a double thickness of heavy-duty foil (about 18 in. square). Securely wrap foil around pan. In a large bowl, combine the cookie crumbs, walnuts, sugar, cinnamon and butter. Press onto the bottom and 2 in. up the sides of prepared pan.
In a large bowl, beat cream cheese and sugar until smooth. Beat in the milk, flour and vanilla. Add eggs; beat on low speed just until combined. Pour into crust.
Pour dulce de leche into a microwave-safe bowl; microwave at 50% power until softened. Drop dulce de leche by tablespoonfuls over batter; cut through batter with a knife to swirl.
Place springform pan in a large baking pan; add 1 in. of hot water to larger pan. Bake at 350° for 60-70 minutes or until center is just set and top appears dull.
Remove springform pan from water bath. Cool on a wire rack for 10 minutes. Carefully run a knife around edge of pan to loosen; cool 1 hour longer.
In a microwave-safe bowl, melt chips; stir until smooth. Stir in chili powder. Spread over cheesecake. Refrigerate overnight. Remove sides of pan. Yield: 16 servings.
Note: This recipe was made with Nestle dulce de leche.
Nutritional Facts1 slice equals 468 calories, 28 g fat (16 g saturated fat), 104 mg cholesterol, 327 mg sodium, 50 g carbohydrate, 1 g fiber, 8 g protein.
Comments Off

on Dulce de Leche Cheesecake Recipe
more...
by Martin Family Food Admin on Apr.18, 2012, under Desserts, Pudding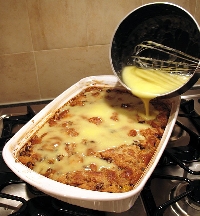 This is a classic dessert recipe. Don't try to make this with skim milk or margarine. The whole milk (or even better half-and-half or cream) and butter are essential parts of the recipe.
Ingredients:
2 cups whole milk (or 2 cups half & half or light cream)
1/4 cup real butter
1/3 cup dark brown sugar (2/3 cup if not making the sauce)
3 large eggs
2 teaspoons ground cinnamon
1/4 teaspoon ground nutmeg
1 teaspoon real vanilla extract
3 cups bread, torn into small pieces (Italian or French bread works best)
1/2 cup raisins
Directions:
1. In medium saucepan, over medium heat, heat milk, half & half, or cream until a film forms over top. Add the butter, stirring until butter is melted. Cool to warm.
2. Soak raisins in warm water.
3. Combine sugar, eggs, cinnamon, nutmeg, and vanilla. Beat with an electric mixer at medium speed for 1 minute or by hand for about 3 minutes. Slowly add warm milk mixture.
4. Place the torn bread in a butter greased 1 1/2 quart casserole.
5. Drain raisins, then sprinkle over torn bread. Pour batter on top of bread.
6. Bake at 350 degrees F for 45 to 50 minutes or until set. Serve warm.
Bread Pudding Sauce
Ingredients:
1 cup whole milk
2 tablespoon real butter
1/3 cup granulated white sugar
1 teaspoon real vanilla
1 tablespoon flour
dash of salt
Directions:
Mix all ingredients in a saucepan. Bring to a boil. Cook for 3 – 4 minutes, stirring constantly. Set aside for 5 minutes, then pour over warm bread pudding before serving.
Comments Off

on Amish Bread Pudding
more...