Archive for August, 2012
by Martin Family Food Admin on Aug.10, 2012, under Cakes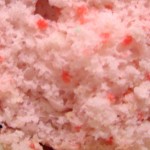 Prep Time: 30 minutes
Cook Time: 35 minutes
Total Time: 1 hour, 30 minutes
Yield: 12-14 servings
Ingredients:
Cake
2 1/4 cups flour
1 tablespoon baking powder
1/2 teaspoon salt
1 1/4 cups milk
4 large egg whites
1 1/2 cups sugar
8 tablespoons unsalted butter, at room temperature
1 teaspoon cherry extract
1 tablespoons marachino cherry juice (from the jar that the cherries come in)
1 10-ounce jar marachino cherries, finely chopped
Frosting (this makes enough to frost a 2 layer cake.):
4 egg whites, at room temperature
1 cup sugar
2/3 cup corn syrup
1 teaspoon vanilla extract
Directions:
Preheat the oven to 350F. Spray 2 9-inch round cake pans with cooking spray. Line the bottom of each pan with parchment or waxed paper and spray with cooking spray. Set aside.
Sift together the flour, baking powder and salt. In another bowl, whisk together the milk and egg whites.
In the bowl of a stand mixer, beat the sugar and butter until very light and fluffy, at least 3 minutes. Beat in the cherry extract and cherry juice. Add one third of the flour mixture, beating on medium speed. Beat in half of the egg-milk mixture, then half of the remaining dry ingredients. Beat until incorporated. Beat in the rest of the milk mixture, then add the remaining flour mixture. Beat the mixture for 2 minutes to make sure everything is incorporated and aerated. Fold in the cherries, then divide the mixture between the two pans.
Bake in the preheated oven until a toothpick inserted in the middle comes out clean. Transfer to a cooling rack and let cool for 5 minutes, then run a knife around the edge of the pan and release the cakes from the pans. Cool completely on the cooling racks.
For the fluffy frosting:
In a stand mixer, beat the egg whites until they form stiff peaks.
Meanwhile, heat the sugar and corn syrup over medium heat. Heat until it comes to a full boil, then remove from the heat.
Once the egg whites are stiff, slowly pour in the hot sugar mixture. Do not scrape the sides of the bowl, or you will have sugar crystals in the frosting. Beat the frosting until it forms a shiny, fluffy marshmallow frosting, 5-7 minutes.
Frost the cake and sprinkle red sugar sprinkles on top
Comments Off

on Cherry Chip Cake with Fluffy Frosting
:Birthday Cake, Cake, Cherry Chip Cake, Dessert
more...