Pizza
by Martin Family Food Admin on Dec.12, 2014, under Entrees, Pizza, Vegetables, Vegetarian, Wheat Belly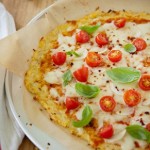 2 cups cauliflower, grated (about 1/2 a large head)
1 large egg, lightly beaten
1 1/2 cup part skim mozzarella, shredded and divided
2 tablespoons Parmesan cheese, grated
1/4 cup tomato sauce, homemade or store bought
1 cup grape tomatoes, sliced in half
2 cloves garlic, sliced
1/4 teaspoon red pepper flakes, crushed
1/4 cup basil leaves, for garnish
Heat oven to 425°. Line a rimmed baking sheet with parchment paper.
Grate the cauliflower using a box grater until you have 2 cups of cauliflower crumbles. Place in a large bowl and microwave for 7-8 minutes, or until soften. Remove and let cool. Mix in the egg, 1 cup mozzarella, Parmesan cheese, and salt and pepper. Once combined, pat into a 10-inch round on the prepared pizza pan. Spray lightly with non-stick spray and bake for 10-15 minutes, or until golden.
Top the pizza with the sauce, remaining mozzarella, cherry tomatoes, garlic, and red pepper flakes. Bake in the oven until melted and bubbly, another 10 minutes. Top with basil before serving.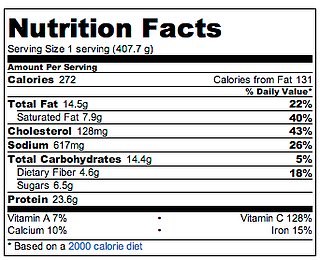 Comments Off

on Cauliflower Crust Pizza
:Pizza, Vegetarian, Wheat Belly
more...
by Martin Family Food Admin on Dec.30, 2011, under Entrees, Pizza
Ingredients
1 (1 pound) loaf frozen whole wheat bread dough, thawed
1/2 cup thousand island dressing
2 cups shredded Swiss cheese
6 ounces deli sliced corned beef, cut into strips
1 cup sauerkraut – rinsed and drained
1/2 teaspoon caraway seed
1/4 cup chopped dill pickles (optional)
Directions
1. Preheat the oven to 375 degrees F (190 degrees C). Grease a large pizza pan. On a lightly floured surface, roll the bread dough out into a large circle about 14 inches across. Transfer to the prepared pizza pan. Build up the edges, and prick the center all over with a fork so it doesn't form a dome when baking .
2. Bake for 20 to 25 minutes in the preheated oven, or until golden.
3. Spread half of the salad dressing over the hot crust. Sprinkle with half of the Swiss cheese. Arrange corned beef over the cheese, then drizzle with the remaining salad dressing. Top with sauerkraut and remaining Swiss cheese. Sprinkle with caraway seed.
4. Bake for another 10 minutes in the preheated oven, until cheese melts and toppings are heated through. Sprinkle with chopped pickle. Let stand for 5 minutes before slicing.
Leave a Comment
more...