Archive for June, 2017
by Martin Family Food Admin on Jun.15, 2017, under Entrees, Vegan, Vegetarian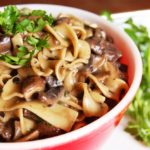 Ingredients:
8 ounces uncooked ribbon noodles
1 tablespoon olive oil
1 yellow onion, chopped
3 tablespoons whole wheat flour, divided
2 cups vegetable broth
1 tablespoon soy sauce
1 teaspoon lemon juice
1 teaspoon tomato paste
1 1/2 pounds mushrooms (half Portobello and half White Button mushrooms), cut into large 2-inch chunks
1/2 teaspoon dried thyme
1/2 teaspoon dried sage
1/2 teaspoon salt
1 tablespoon white wine vinegar
1/4 cup vegan sour cream (optional)
10 turns of fresh ground, black pepper
1/4 cup flat-leaf parsley, minced
Instructions:
Cook the noodles per the direction on the package. Under cook them a bit because they will be cooked again once incorporated into the sauce.
Drain and set aside.
In a large saucepan, add the olive oil and sauté the onions for 3 minutes over medium heat.
Add the flour and cook for 30 seconds, stirring constantly.
Gradually add the broth, soy sauce, lemon juice, and tomato paste, while stirring at the same time. Stir until mixture becomes thick and bubbly, about a minute.
Add the mushrooms, thyme, sage, and salt. Stir to combine.
Cook for 5 minutes, stirring frequently until mushrooms have shrunk in size.
Add the vinegar and simmer for 4 more minutes.
Add the noodles, sour cream, 1 tablespoon of flour, black pepper, and parsley and cook on low for an additional 5 minutes.
Garnish with parsley.
Nutritional Information:
Total Calories: 795 | Total Carbs: 104 g | Total Fat: 21 g | Total Protein: 50 g | Total Sodium: 1,548 g | Total Sugar: 13 g
(Per Serving: serves 4-6 people) Calories: 159 | Carbs: 20.8 g | Fat: 4.2 g | Protein: 10 g | Sodium: 309 mg | Sugar: 2.6 g
Comments Off

on Vegan Mushroom Stroganoff
:Entree, Vegan, Vegetarian
more...
by Martin Family Food Admin on Jun.15, 2017, under Entrees, Soup, Vegan, Vegetarian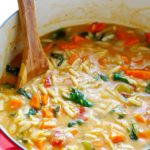 Total Time: 30 Mins
Prep Time: 5 Mins
Cook Time: 25 Mins
Ingredients:
2 tablespoons olive oil
1 small white onion, peeled and diced
1 cup diced carrots
1 cup diced celery
3 cloves garlic, peeled and minced
6 cups chicken or vegetable stock
1 (14-ounce) can fire-roasted diced tomatoes
1 1/2 cups (about 8 ounces) DeLallo whole wheat orzo pasta, or other whole wheat pasta
1/2 teaspoon dried thyme
1/4 teaspoon dried oregano
1/4 teaspoon dried rosemary
4 cups loosely-packed spinach
salt and black pepper
optional toppings: freshly-grated Parmesan cheese, crushed red pepper flakes
Directions:
Heat oil in a large stock pot over medium-high heat. Add onion and saute for 4 minutes, until soft. Add carrots, celery and garlic and saute for an additional 3 minutes. Add chicken stock, tomatoes, orzo (pasta), thyme, oregano, rosemary and stir to combine. Bring soup to a simmer, stirring occasionally. Reduce heat to medium-low and simmer for 10 minutes, stirring occasionally, until the pasta is al dente.
Stir in the spinach and cook for 1-2 minutes until it is bright green and wilted. Taste, and season with salt and black pepper as needed.
Serve warm, garnished with your desired toppings.
Comments Off

on Italian Orzo Spinach Soup
:Entree, Soup, Vegan, Vegetarian
more...