by Martin Family Food Admin on Jun.30, 2018, under Entrees, Type II Friendly, Vegan, Vegetables, Vegetarian, Wheat Belly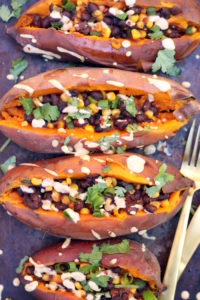 PREP TIME: 10 mins
COOK TIME: 3 hours
TOTAL TIME: 3 hours 10 mins
Cooking sweet potatoes in the slow cooker makes them extra moist and sweet! Top with black beans, corn, avocado, spices, and smoky cashew cream for an easy vegan and gluten-free meal.
Serves: 4
INGREDIENTS
For the sweet potatoes:
4 medium sweet potatoes (about 7 ounces each)
½ cup canned black beans, rinsed and drained
½ cup corn, fresh or frozen
? cup canned tomato sauce
2 tbsp chopped scallions
½ tsp cumin
¼ tsp cayenne pepper
½ tsp kosher salt
1 avocado, chopped
2 tbsp chopped cilantro
For the smoky cashew cream:
½ cup raw cashews, soaked for 30 minutes
½ cup water
¼ tsp smoked paprika
¼ tsp salt
½ tsp lemon juice
1-2 tsp hot sauce
INSTRUCTIONS
Wash and dry sweet potatoes. Place them in slow cooker, cover, and cook on high for 4 hours or low for 8 hours (mine were done after a bit less than 3 hours on high).
Place cashews in a bowl of warm water to soak.
In a medium bowl, combine the black beans, corn, tomato sauce, scallions, cumin, cayenne, and salt.
Drain cashews and place in high-speed blender with the rest of the cashew cream ingredients, blending until smooth. Season to taste and set aside.
Remove the potatoes from the slow cooker and cut each lengthwise ¾ the way through. Pull apart to create opening and gently mash flesh with a fork. Divide the bean filling among the potatoes and gently mix it into the potato flesh.
Top potatoes with avocado, cilantro, and cashew cream.