Gluten Free
by Martin Family Food Admin on Sep.11, 2015, under Chicken, Dairy Free, Entrees, Gluten Free, Paleo, Wheat Belly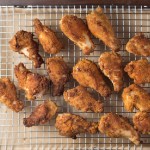 Yield: 4 servings
Active Time: 15 minutes
Total Time: 25 minutes
15 chicken drumsticks
1/2 cup coconut flour
2 eggs
1 teaspoon oregano
1/4 teaspoon cayenne pepper
1 teaspoon paprika
2 teaspoons onion powder
1 teaspoon garlic powder
1 teaspoon salt
1/2 cup coconut oil, for frying
Preheat oven to 325 degrees and line a baking sheet with parchment paper.
Pat chicken dry.
Beat eggs in a shallow bowl, set aside. In a shallow dish, mix coconut flour and spices.
Dip chicken pieces into egg mixture, turning to coat evenly with egg. Transfer egg-coated chicken into seasoned coconut flour, coat well with coconut flour, and place on a separate plate.
Heat 1/2 cup coconut oil in a shallow pan over medium heat. Working in batches, pan fry chicken 2 to 3 minutes per side. Place chicken on baking sheet and place in oven 5 minutes to cook through.
Comments Off

on Coconut-Flour Fried Chicken Wings
:Chicken, Dairy Free, Entrees, Gluten Free, Paleo, Wheat Belly
more...