Pudding
by Martin Family Food Admin on Apr.18, 2012, under Desserts, Pudding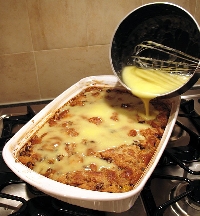 This is a classic dessert recipe. Don't try to make this with skim milk or margarine. The whole milk (or even better half-and-half or cream) and butter are essential parts of the recipe.
Ingredients:
2 cups whole milk (or 2 cups half & half or light cream)
1/4 cup real butter
1/3 cup dark brown sugar (2/3 cup if not making the sauce)
3 large eggs
2 teaspoons ground cinnamon
1/4 teaspoon ground nutmeg
1 teaspoon real vanilla extract
3 cups bread, torn into small pieces (Italian or French bread works best)
1/2 cup raisins
Directions:
1. In medium saucepan, over medium heat, heat milk, half & half, or cream until a film forms over top. Add the butter, stirring until butter is melted. Cool to warm.
2. Soak raisins in warm water.
3. Combine sugar, eggs, cinnamon, nutmeg, and vanilla. Beat with an electric mixer at medium speed for 1 minute or by hand for about 3 minutes. Slowly add warm milk mixture.
4. Place the torn bread in a butter greased 1 1/2 quart casserole.
5. Drain raisins, then sprinkle over torn bread. Pour batter on top of bread.
6. Bake at 350 degrees F for 45 to 50 minutes or until set. Serve warm.
Bread Pudding Sauce
Ingredients:
1 cup whole milk
2 tablespoon real butter
1/3 cup granulated white sugar
1 teaspoon real vanilla
1 tablespoon flour
dash of salt
Directions:
Mix all ingredients in a saucepan. Bring to a boil. Cook for 3 – 4 minutes, stirring constantly. Set aside for 5 minutes, then pour over warm bread pudding before serving.
Comments Off

on Amish Bread Pudding
more...