Archive for November, 2015
by Martin Family Food Admin on Nov.05, 2015, under Cakes, Desserts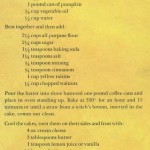 Old Witch's Magic Nut Cake
(Source: story by Wende and Harry Devlin)
3 eggs
1 (1 lb.) can pumpkin
3/4 cup vegetable oil
1/2 cup water
2 1/2 cups all-purpose flour (you can swap out white whole wheat if you like)
2 1/4 cups sugar
1 1/2 teaspoon baking soda
1 1/4 teaspoon salt
3/4 teaspoon nutmeg
3/4 teaspoon cinnamon
1 cup yellow raisins
1/2 cup chopped walnuts, pecans or mixture of both
Icing:
4 oz. cream cheese
3 tablespoons butter
1 teaspoon vanilla or lemon juice
1/2 box confectioners' sugar
chopped walnuts or pecans to sprinkle
Beat together wet ingredients, mix together dry ingredients and combine the 2 mixtures. Pour batter into 3 pans (or pound coffee cans–or I just used a 13×9). Bake at 350 degrees for 1 hour to 1 hour and 15 minutes. Cool cake(s). Cream together ingredients for icing. Frost top of cakes and sprinkle with more chopped walnuts if desired.
Comments Off

on Old Witch's Magic Nut Cake
:Cake, Dessert, Old Witch, Witch
more...