Tag: Cookies
by Martin Family Food Admin on Nov.30, 2011, under Cookies, Desserts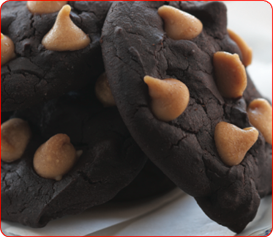 Ingredients
1/4 cup dried cranberries
1/2 teaspoon vanilla extract
1/3 cup unsweetened cocoa powder, sifted
1 cup canned white cannellini beans, rinsed and drained
1/4 cup reduced-fat peanut butter, such as Better'n Peanut Butter
2 tablespoons agave nectar
3 large egg whites
4 packets (about 4 grams) powdered stevia, such as SweetLeaf
1/4 cup puffed millet cereal, such as Arrowhead Mills
1/4 cup peanut butter chips
Nonstick cooking spray
Directions
1. Preheat the oven to 375°F. Line 2 baking sheets with parchment paper and spray lightly with cooking spray. Set aside.
2. In a small bowl, add the cranberries. Pour in hot water to cover and allow to soak.
3. Meanwhile, in the bowl of a food processor, combine the vanilla, cocoa, cannellini beans, peanut butter, and agave. Blend until the mixture is smooth, about 3 minutes, scraping down the side of the bowl halfway through blending.
4. In the bowl of a mixer fitted with a whip attachment, beat the egg whites until they form soft peaks. Gradually beat in the stevia. Continue to beat the whites until they are creamy and nearly stiff. Add one-third of the egg-white mixture to the cocoa-bean mixture in the food processor. Blend to combine, about 30 seconds. In 2 batches, fold the lightened cocoa mixture into the egg whites until they are almost fully combined.
5. Drain the liquid from the cranberries and then add the cranberries to the batter. Add the millet. Fold the batter until the cranberries and millet are evenly dispersed and the cocoa mixture is completely incorporated.
6. Drop mounded spoonfuls of the batter onto the prepared sheets. Spread the batter out to form cookies about 2 inches in diameter. Sprinkle the peanut butter chips on top of the cookies.
7. Bake for 12 to 14 minutes, rotating the pans one turn halfway through baking. Using a metal spatula, transfer the cookies to wire racks to cool.
Makes 20 Cookies @ 55 calories each
Leave a Comment
:Chocolate, Cookies, Healthier Choice, Peanut Butter
more...