by Martin Family Food Admin on Dec.12, 2014, under Appetizers, Dips, Wheat Belly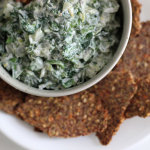 Ingredients
For the crackers:
2 cups ground flaxseeds
3 tablespoons whole flaxseeds or sesame seeds
1/2 cup grated parmesan cheese
1 teaspoon onion powder
1/2 teaspoon sea salt
1 large egg
2 tablespoons extra-light olive oil or coconut oil, melted
1/2 cup water
1 teaspoon coarse sea salt or spices mix such as garlic, cumin, and chili
For the dip:
1 pound spinach, tough stems discarded
1 tablespoon extra-virgin olive oil
1/2 cup finely chopped onion
1 1/2 cups Greek yogurt
1/2 teaspoon grated lemon zest
2 tablespoons fresh lemon juice
1 bunch watercress, coarsely chopped, plus small sprigs for garnish
Coarse salt and freshly ground pepper
Directions
For the crackers:
Preheat the oven to 325°F.
1. In a large bowl, combine ground flaxseeds, whole flaxseeds or sesame seeds, parmesan cheese, onion powder, and 1/2 teaspoon of sea salt.
2. In a medium bowl, whisk together the egg, oil, and water. Pour into the flaxseed mixture, and mix thoroughly.
3. Cover two baking sheets with parchment paper. Spoon half of the mixture onto each parchment, shape each into a loose ball, and cover each with another sheet of parchment paper. Using a rolling paper, flatten to 1/8-inch thickness.
4. Remove the top layer of parchment paper, sprinkle with coarse sea salt or desired spices, and bake for 25 minutes, or until the center is firm. Cool for at least 30 minutes. Break by hand or cut with a pizza cutter into crackers of desired size.
For the dip:
1. Wash spinach; drain, but do not dry. Transfer to a large stockpot. Cover, and cook over medium-high heat, stirring occasionally, until wilted, about five minutes. Transfer to a clean kitchen towel, and squeeze out excess liquid. Let cool slightly; coarsely chop. Set aside.
2. Heat oil in a medium sauté pan over medium heat. Add onion and cook, stirring occasionally, until soft and translucent, about 8 minutes. Transfer to a plate, and let cool slightly.
3. Whisk together yogurt and lemon zest, and juice in a medium bowl. Stir in spinach, onion, and watercress; season with salt and pepper. Garnish with watercress sprigs, if desired.
Comments Off

on Spinach and Watercress Dip With Flaxseed Crackers
:Appetizers, Dips, Wheat Belly
more...